Sneaker Care for Your New Kicks
Content Team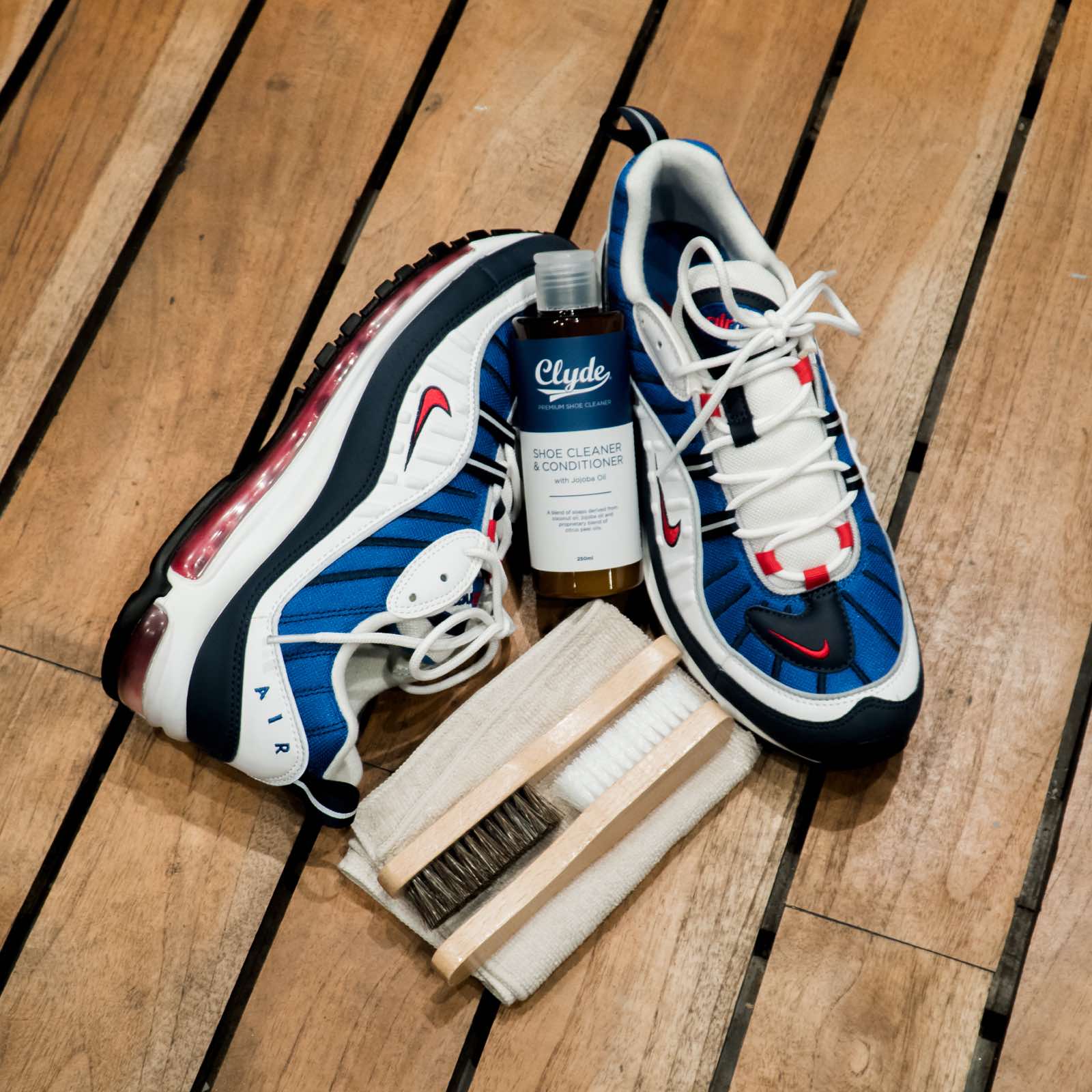 Nowadays sneakers are more than just fashion, they're a lifestyle. They need to be properly taken care of to make sure that not only do they look like they're fresh out of the box, but also to ensure that they will stay that way.
However, whether we admit it or not, cleaning our dirty pairs seems a little too tedious. So, to make the process a little easier, we're giving you the basics of sneaker care for your new kicks.
-
Brush it off
The first step is to use a dry brush to pre-clean your kicks. It's best to use a quality shoe brush to remove any loose dirt from the outsole, midsole, and the uppers. Clyde includes, in their Cleaning Kit, the premium quality soft-bristled Clyde Horsehair Brush for the uppers and the firm Clyde Sole Brush for the midsole and outsole to break up those stubborn dried up soil. No shoe brush? Don't sweat it. A spare soft-bristled toothbrush will do.
Mix it up
We recommend using a non-toxic solution made specifically for shoe cleaning such as the Clyde Shoe Cleaner and Conditioner which is made from natural coconut oil and jojoba oil that releases dirt, grime, and stains easily. If you don't have access to any shoe cleaning solution, you can dilute a small amount of mild laundry detergent or dish soap. For white or light-colored shoes, you can even make a cleaning paste with equal parts baking soda and water.
Laced down
Remove the shoelace and clean using our mixed up, diluted solution. Massage the laces with your hands (we recommend wearing a rubber glove for this one.) Then rinse your shoelace and dab dry with a soft cloth. Any towel will do but you might as well use Clyde's Microfiber Towel. If it's still a little damp, you can air dry it but keep away from direct sunlight.
Wash up
Apply the mixed cleaning solution using your premium quality shoe brush, soft-bristled dry brush, or a spare tooth brush. Thoroughly brush the outsole and the midsole to make sure that any dried-up grime, soil, or stain are removed. You may also opt to clean the insoles by removing them and cleaning them using our diluted cleaning solution, however you should make sure that they are completely dry before putting them back into the shoes to avoid any unseemly odor. For the uppers, make sure that you are using a soft-bristled brush and are being gentle to avoid damaging the material. Then dab the uppers using a dry cloth (preferably a microfiber towel) to lift moisture and dirt. Continue gently rubbing with a brush and dabbing with a cloth until you are satisfied with the result.
Dry off
Lastly, make sure to air-dry your kicks away at room temperature, away from direct sunlight. Allow your shoes to dry completely before rocking them. We recommend finishing off with a little spritz of Clyde Odor Eliminator as a finishing touch.
-
If you want to learn more sneaker care tips or cop some Clyde Shoe Cleaning Kit, here are some ways you can keep up with us.
🛒 Online purchase – Shop via URBANATHLETICS.COM.PH.
🚶🏻‍♂️Store visit - Drop by our stores at Greenbelt 3, S Maison at Conrad Manila, SM Fairview, and SM Megamall.
Don't forget to check out the urbanAthletics website and follow our Facebook, Twitter, and TikTok pages to stay up-to-date on all the heat that we'll be dropping in our stores!