How the Chunky Sneaker Movement Came to Be
Content Team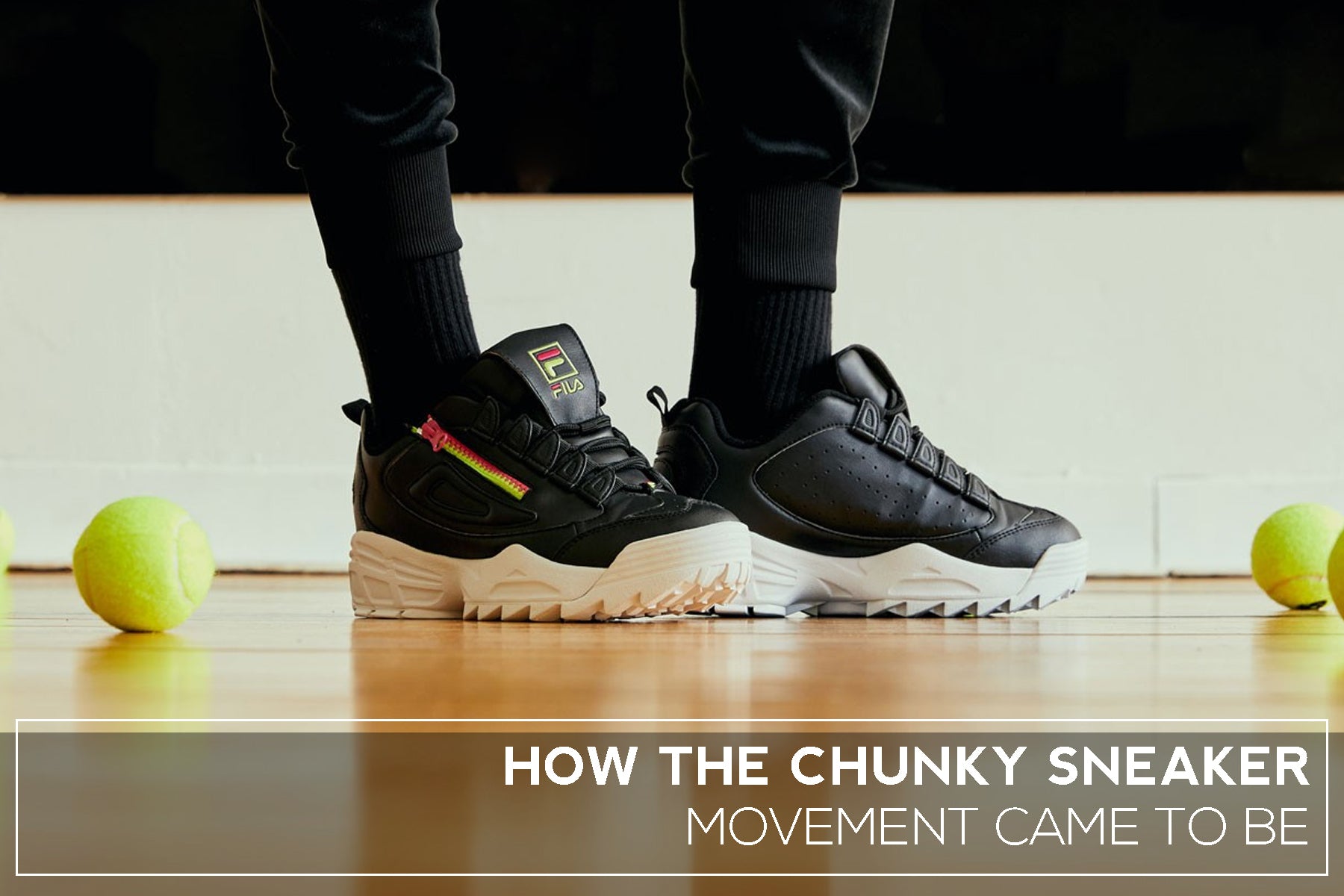 The resurgence of the Chunky Sneaker Trend has been on a steady rise in the past couple of years. From high end clothing brands like Balenciaga to sportswear brands like Adidas and Fila; these brands have been at the forefront of the chunky sneaker movement.
A shoe style that was a total joke in the early 2000's is now a silhouette that's admired by today's generation of streetwear enthusiasts. It's definitely amazing how street style evolves over time.
And as time continues to move, these dad shoes just keep getting chunkier and their colors are becoming righter. With greater attention to detail being given to these sneakers' design, the chunky sneaker releases are only getting stronger.
Here's a couple of reasons why we don't see this dad shoe trend dying any time soon.
Nostalgia
Nostalgia has taken over popular culture, and we can see it in all forms of media especially with 90's fashion making a huge comeback.
The nostalgia that accompanied the resurgence of 90's fashion paved the way for the dad shoe to make a comeback. Straight fit jeans and regular cut pants were no longer considered uncool. And of course, what better way to complete the 90's swag with a pair of chunky sneakers?
FILA Distruptor 3 (Original Price: P 4,499; SALE Price: P 2,699)
Hypebeast Culture
You have to admit that hypebeast culture also played a huge role in the resurgence of chunky shoes. All it takes is a handful of high-end brands and prominent figures riding the wave to make a movement mainstream. Kanye West and his Yeezy Boost 700 line and Raf Simmons' Ozweego are great examples of this; both coming from adidas Originals.
adidas Ozweego (Original Price: P 6,500; SALE Price: P 3,900)
Variety
While simple silhouette trainers will always remain popular with a majority of sneakerheads, the need to stand out has become more apparent amongst today's streetwear enthusiasts.
Social media's prominence in society and its celebration unique-ness was another catalyst that sparked the resurgence of chunky sneakers.
Sure, Jordans will always be popular, but not everyone can get them, let alone afford them. Dad shoes, on the other hand, are readily available and are relatively cheap. Their designs were also often incredibly unique. And with a generation of consumers that embraces individuality, it was the perfect combination.
Skechers D'Lites (Price: P 4,095)
If you're interested in copping any of the sneakers featured in the blog, here are a couple of ways you can get 'em:
📱 Chat & Collect – Message your nearest urbanAthletics branch via VIBER for order pick-up. Learn more here:  www.urbanathletics.comph/pages/chatandcollect
🛒 Online purchase – Shop via URBANATHLETICS.COM.PH for pickup in our fulfillment hub in Pasig City.
🚶🏻‍♂️Store visit - Drop by our stores at Greenbelt 3, S Maison at Conrad Manila, SM Fairview, and U.P. Town Center.
Don't forget to check out the urbanAthletics website and follow our Facebook and Instagram pages, and join our VIBER Community to stay up-to-date on all the latest and the greatest!